The German version of the book ABBA At 50 is entitled ABBA: Thank You For The Music and was published 16 September 2022.
The German publisher, Delius Klasing Verlag, has chosen a different title and cover picture, but otherwise the content and design should be identical to the English-language version.
There is also a "luxury edition", limited to 1,000 copies, which comes housed in a pink slipcase and includes a signed poster of ABBA in 1974. This Luxury Edition is published 14 October.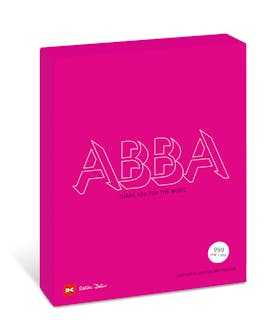 Info about the poster:
Format : 100 x 70 cm
Folded in the pink box together with the book
Each copy of the poster is signed by photographer Bubi Heilemann, well-known for his numerous pictures of ABBA 1974-1980.
Read more about the contents of the book at the ABBA At 50 page.
To purchase a copy, please use the convenient links in the "Order from" menu. I may earn a commission if you make a purchase through one of these links.